Guide to Surfboard Board Bags
Posted by Christian Thomson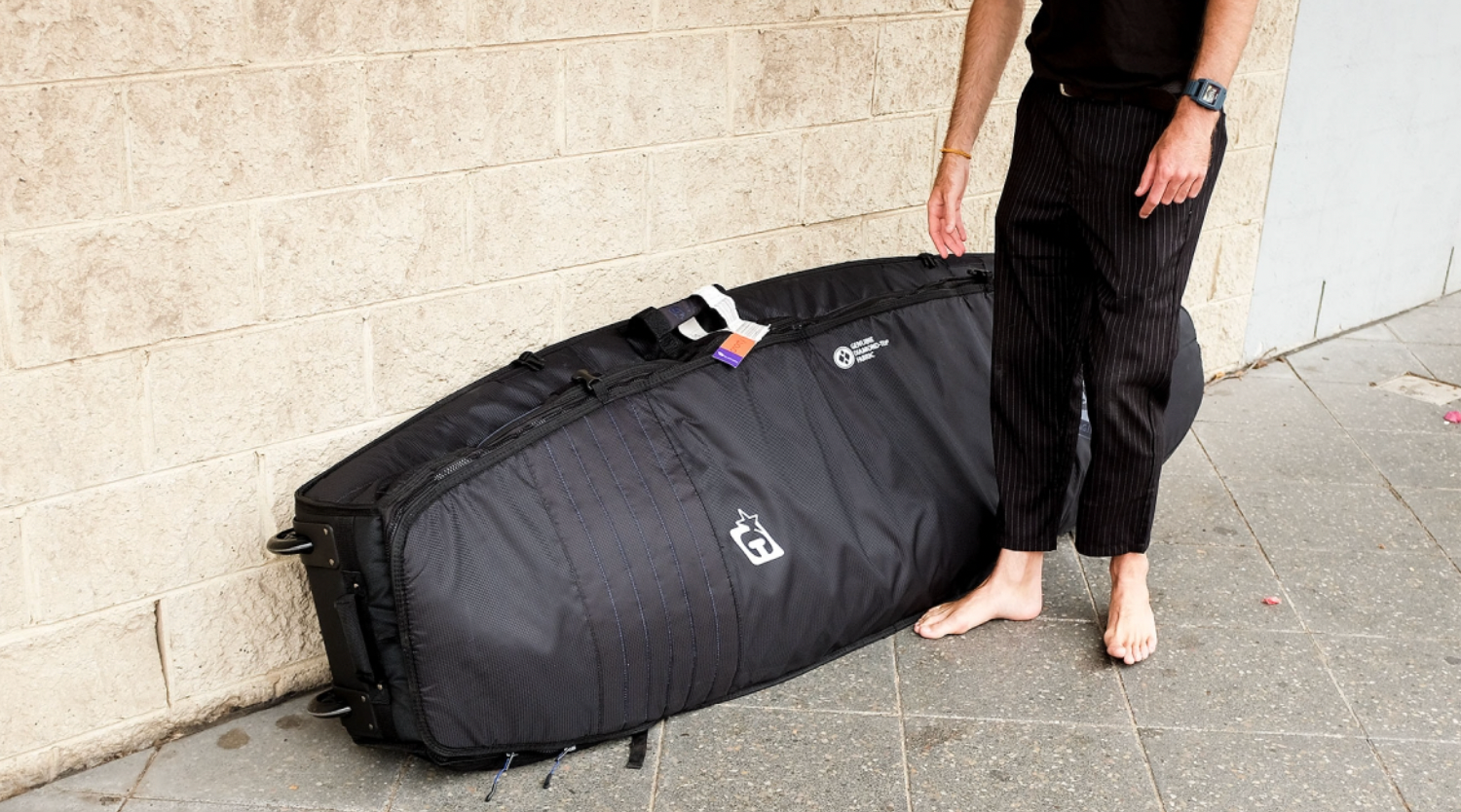 Surfing is not just a sport; it's a lifestyle that involves passion, dedication, and the thrill of surf travel. To ensure the longevity and safety of your beloved surfboard, investing in the right surfboard bag is essential. There are various types of surfboard board bags designed to cater to different needs and preferences. In this guide, we'll explore three popular types: day bags, coffin board bags, and surfboard socks.
Day Bags: Protection for Daily Surf Adventures
Surfboard day bags, also known as day covers, are the goto choice for surfers who hit the waves frequently and need lightweight protection for their boards. These bags are designed for day-to-day use, offering sufficient padding to shield your surfboard from minor dings, scratches, and sunlight. Day bags typically feature a zipper closure, a padded interior, and a durable outer shell to protect against the elements. Ideal for protecting your surfboard between the beach, your car and the garage!.
Key Features:
 Lightweight and easy to carry.

 Ideal for short distance transportation.

 Provides protection from sunlight and minor impacts.

 Convenient zipper closure for easy access.
Coffin Board Bags: Maximum Protection for Travel
Coffin surfboard bags, also known as travel bags, are the heavy duty option for surfers who embark on surf trips or transport their boards over longer distances. These bags are designed to accommodate multiple surfboards, typically double board bags and triple board bags. Providing maximum protection against the rigors of travel, particularly air travel. The elongated shape resembles a coffin, hence the name. Coffin board bags are equipped with extra padding, reinforced seams, and often have wheels for easier manoeuvrability.
Key Features:
 Heavy duty construction for superior protection during travel.

 Padded interior to guard against impacts and dings.

 Multiple board capacity for surf trips.

 Reinforced seams for added durability.

Some models feature wheels for easy transport through airports and other travel hubs.
Surfboard Socks: Lightweight and Versatile
Surfboard socks, or board socks, offer a minimalist and lightweight option for surfers who prioritise simplicity and ease of use. These are essentially stretchy, breathable covers that slip over your surfboard, providing a protective fabric layer against minor scratches and sunlight. 
While surfboard socks don't offer the same level of impact protection as day bags or coffin bags, they are an excellent choice for short term storage and protection during transportation to and from the beach.
Key Features:
 Lightweight and easy to store.

 Protects against scratches and sunlight.

 Ideal for short distance transportation.

 Breathable fabric helps prevent wax from melting.
Choosing the right surfboard board bag depends on your specific needs and preferences. Whether you're a daily surfer, a frequent traveler, or someone who values simplicity, there's a board bag that suits your lifestyle. Day bags, coffin board bags, and surfboard socks each have unique advantages, providing surfers with options to keep their cherished boards in optimal condition. Invest in the right board bag, and you'll not only protect your surfboard but also enhance your overall surfing experience.
Your questions answered:
Can you fly a surfboard without a bag?
You certainly can, but you risk the board becoming damaged. It is possible to wrap the surfboard in just bubble wrap and cardboard. We don't recommend it. 
Are surfboard bags worth it?
We think so, a good board bag will last many, many years and provide proper protection for your surfboards.