Surfboard Fin Guide From Captain Fin Co
Posted by Christian Thomson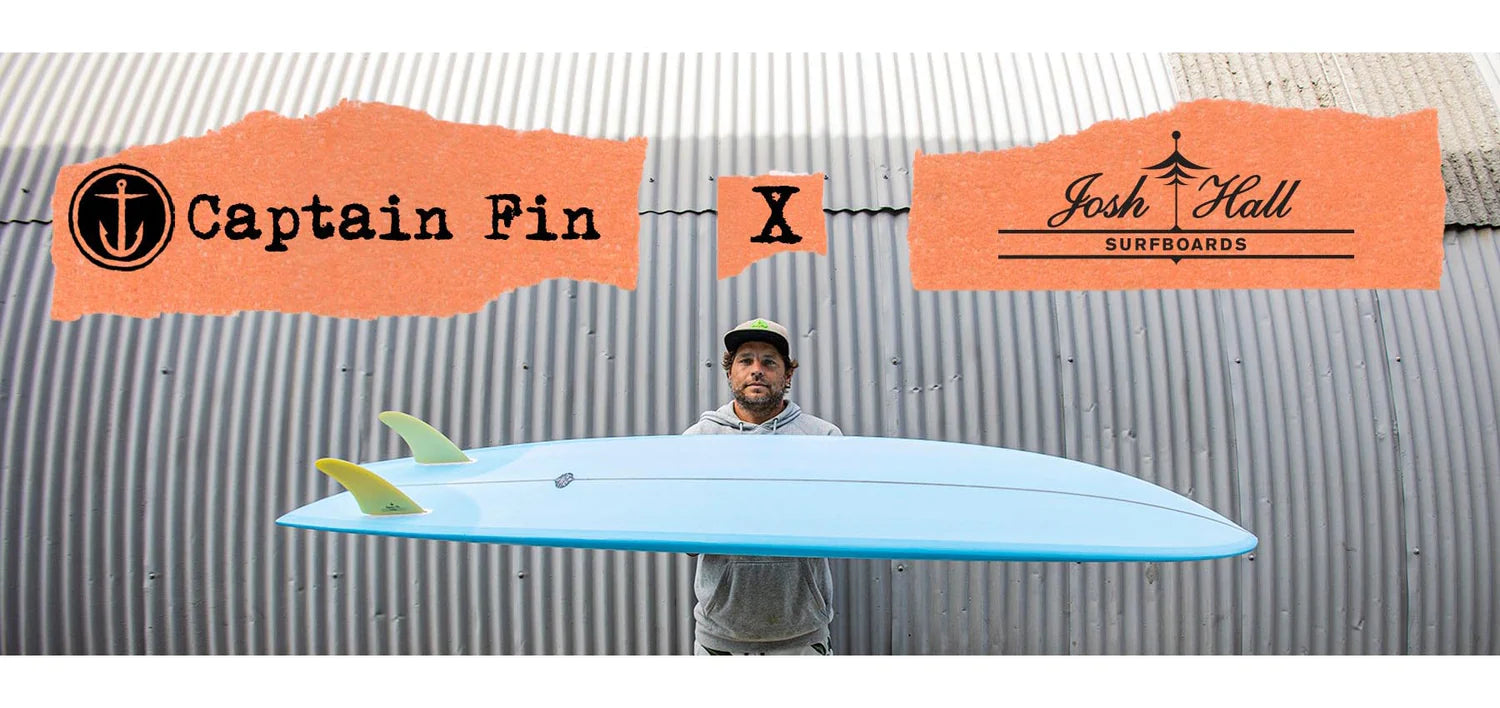 10 Over Surf Shop is proud to have one of the widest selection of Captain Fin Co's surfboard fins. In this guide from Captain Fin Co we discover the different types of surfboard fins available.
Surfboard fins are a crucial part of your surfboard setup. Choosing fins that will work best for you and your surfboard depends on your size, riding style, and your surfboard's fin box.
Before talking about fin size or different fin configurations, it is important to distinguish between glassed-in and removable fins.
Glassed-in fins are laminated into the surfboard. As you might imagine, a glassed-in fin might be smoother and more sound than a removable fin. However, glassed-in fins are difficult to repair and do not offer you the versatility of removable fins.
Surfboards with removable fins have "boxes" that fins are screwed into. Removable fins can be added or removed using a fin key and adjusting the small (typically stainless steel) inset screws. Don't force your fins into the box as that may damage your board or the fin. Instead, make sure the screws are loose enough and that your fin is facing in the right direction. Center and outside fins have different shapes, so make sure you are using the right box. Once your fins are in place, tighten your screws with the key, making sure the fins are secure but not too tight.
Although longboard fin boxes are generally cross-compatible across all boards, the rest of the fin boxes out there are almost certainly equipped with one of these three box types:
These fins have two tabs that are secured to the board using set screws. FCS recently launched the FCS2 "keyless" Fin Standard, meaning fins can be installed or removed without a key or grub screws. FCS2 is also backwards compatible, meaning you can use your twin tab FCS fins with the new FCS2 system. Set screws are required. (All of our twin tab fins come with screws)
The other fin box, Futures Fins, connect to your board using a Truss Base along the entire length of the fin box (unlike plugs) for a strong, lightweight connection. Quick and easy set screws hold the fins in place.
The following chart is Captain Fin's recommended fin size according to rider weight. If you are between sizes, consider the type of board and/or type of waves you will be riding with that particular setup. For example, if you are in between size Medium and Large, you might pick size Medium fins for your small wave board, but size Large fins for you big wave board.
Once you've decide on your fin size, you need to understand your board's fin configuration. To determine your fin configuration, examine the base of your surfboard near the tail. The number of fin boxes you see is the fin configuration and will likely range from 1 to 5. The most common surfboard fin setups are Single, Twin, Thruster, and Quad. Many boards are now equipped with 5 Fin boxes so you can mix and match more easily. There are also many boards offered with a longboard single fin box and regular side fin boxes called 2+1.
The Single Fin
A single fin box is most common on longboards and is the most traditional fin configuration. Turning with a single fin is limited, meaning single fins are ideal for fast, straight shot surfing. Single fins will provide stability, control, and predictability to your longboard. Longboard single fin boxes are long and allow you to move the fin forward for a looser feel, or further back for more control.
The Twin Fin
The Twin Fin configuration will make your surfboard fun, playful, and maneuverable. Twin fin setups are ideal for your shortboard fish and can even be fun in bigger waves. Twin fins offer a skatier feel and longer, more drawn out turns.
Three Fin (Thruster)
These days, 3 fin setups are the most common configuration and can be found on a variety of surfboard shapes and sizes. The two outer fins are closer to the middle of the board, angled towards the board center ("toed-in") and can be flat on the inside in order to increase water tracking and speed. The center fin is closest to the tail and is symmetric on both sides for stability (see Foil for more info). Tri-fins perform well because they add stability, control and maneuverability that beginners and pros excel on.
Quad Fin 
Quad fin configurations offer speed in smaller surf by channeling the water to the end of the surfboard and out the tail for acceleration. Two fins near the rails of your surfboard will also add stability and hold in big-wave surfing. Lastly, quad fins are great for generating drive through turns.
Five Fins
Five fin configurations are not meant to be surfed with all five fins. Five fin boxes allow you to mix and match fins depending on your preference and the surf conditions. Swap from the freedom of a twin fin, to the traction of a thruster, to the speed of a quad without changing boards.