Best Surf Beach In Cornwall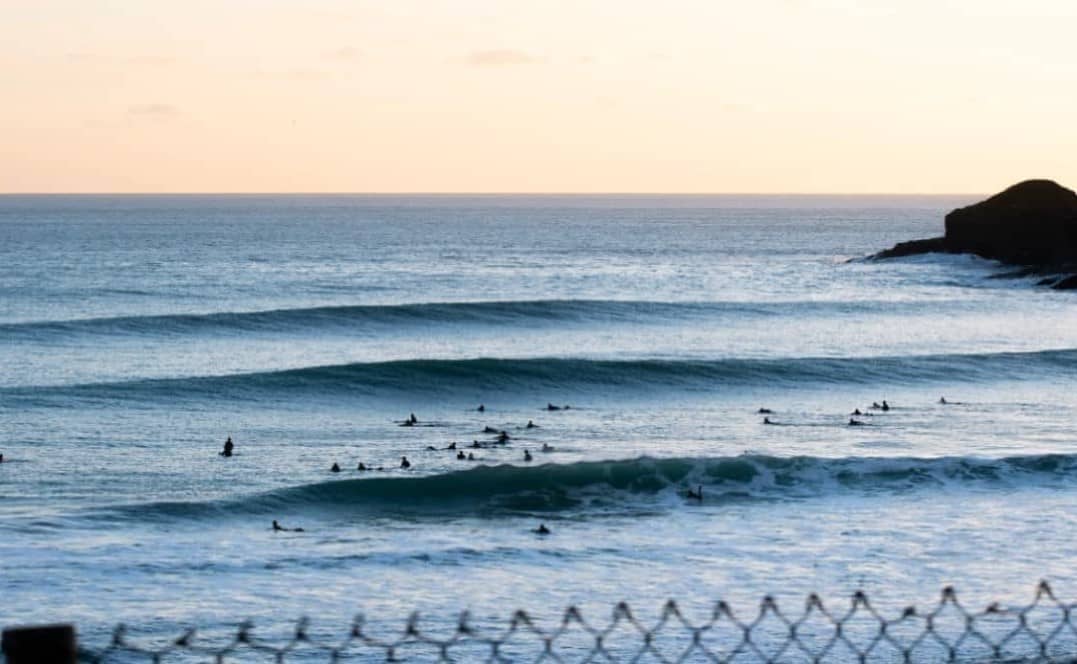 Distilling the best surf beaches in Cornwall down to an undisputed champion is a nigh impossible task, but we've done our best to come up with a winner, in our eyes. Feel free to dispute this amongst fellow wave riders. Now, before we dive right in (pardon the pun) and announce our favourite, we should mention the runners-up, because Cornwall has a plethora of incredible surf beaches at its disposal that we think you should know about. In no particular order, we explore where to surf across the county, from the wild outer-west expanses of Gwenver, to the far wonders of Watergate Bay. 
Where Is Cornwall's best surf beach?
Let's kick off with those dreamy summer days when the sun is blistering overhead, the swell is 1-2ft at best and you really want to try your hand at surfing.
On Cornwall's south coast you can't beat the classic that is Praa Sands. A beauty of a bay that is equipped with all you need for a classically Cornish beach day, including a highly regarded surf school and coasteering centre, a local restaurant, and a bar on the beach, and it is fully lifeguarded in peak season. What more could you want? Oh, and the waves are great too, from beginner greenies to those stormy overhead swells that roll through, a gem that's worth a trip.
If we head northeast from Praa Sands just over the rolling hills you'll come to the picturesque town of St Ives. Renowned for its art, architecture, history and beautiful coastal walks; here you will also find a break worth checking out. Nestled between two rugged headlands is Porthmeor, tucked away in a small sandy alcove that delights rookies and veterans alike. St Ives Surf School is on hand, where you can get lessons in surfing, kayaking, paddle boarding, and coasteering from a team of knowledgeable ocean lovers looking to share their passion. On those colder days you'll be able to warm up at Porthmeor Cafe, or wander around Tate St Ives, the renowned art gallery that boasts an impressive collection worth exploring, that also shares its name with her three other galleries, Tate Modern, Tate Britain and Tate Liverpool. 
Waves everywhere in Cornwall
Around the headland and along the coast you'll come to three miles of golden sands that are home to a number of different breaks, from Hawke's Point all the way to Godrevy. If we had to rank this list, Hayle (Gwithian) would arguably come in a close second. Tending to roll in on the gentler side, this stretch of coastline is popular with longboarders and learners, thanks to its soft sandy banks that roll in along the northern stretch of the river mouth up until Godrevy, past there it can get pretty heavy off the point on the right swell.
There are also several lifeguard stations all along this expanse which the teams expertly patrol through a longer-than-usual summer season to manage the large numbers of visitors all year round. If you're looking for something a little less timid then you can also get lucky here, so there really is something for everyone. Given the size of the bay and its exposure to both north and westerly winds it can be a little messy so keep that in mind. 
Let's take a short intermission from the trip up the coast and explore the raw terrain of the wild west. We can't compile this little list without mentioning Sennen and her sister Gwenver. Rocking up here feels like you've reached the ends of the earth, which you sort of have. The ocean draws out in front of you, but not before providing some exceptional waves at these two coves. From 9ft longboard favourites to a classic fish ripper, it has it all, and the miles of middle-earth coastline are also well worth an adventure while you're over that way. 
Now back to our regularly scheduled programming of north coast gems as we swiftly approach our winner. But let's stop off at Porthtowan first, a beauty stretch of sand that can handle some delightful A-frames, perfect for the more experienced surfers due to the bigger sets that roll in off the back, reaching 8-10ft at best. 
Given that we call Newquay our 'local' we couldn't not mention one of our doorstop breaks, Watergate. Famous for its consistent swell all year round, leaning on the beginner side, it has incredible scenery, soft sand underfoot and is protected by the headland. Not to say that intermediates can't get some here too, as it picks up enough to host the UK Pro Surf Tour every May, as well as the English National Surfing Championships. 
As we are hovering around our local area we might as well get down to it. Our favourite, and probably that of many others too, has to be Fistral. A top runner that comes out a winner time and time again, and with good reason. This illustrious break, just off Newquay's town centre, is where Cornish surfing began, or so we believe. Fistral, and Newquay as a whole, are at the heart of Cornish surfing history and are still to this day a mecca for the sport. Fistral is a westerly facing bay perfect for those Atlantic swells, meaning that this 600m stretch of sand from end to end consistently holds decent waves for all abilities, but tends towards the more experienced.
What sets this spot out from the rest is the Cribbar. Even the name sounds daunting, as does its nickname - The Widowmaker. On the northern end of Fistral you'll find a natural reef break that put Cornwall's big wave surfing on the map, she's temperamental and sensitive at best and constantly on the move, you'll need to be observant and analytical to find this take-off zone, as well as have nerves of steel. She is a thing of beauty when she is firing, but can only be tamed by advanced or professional surfers, for she will make a meal of anyone less.