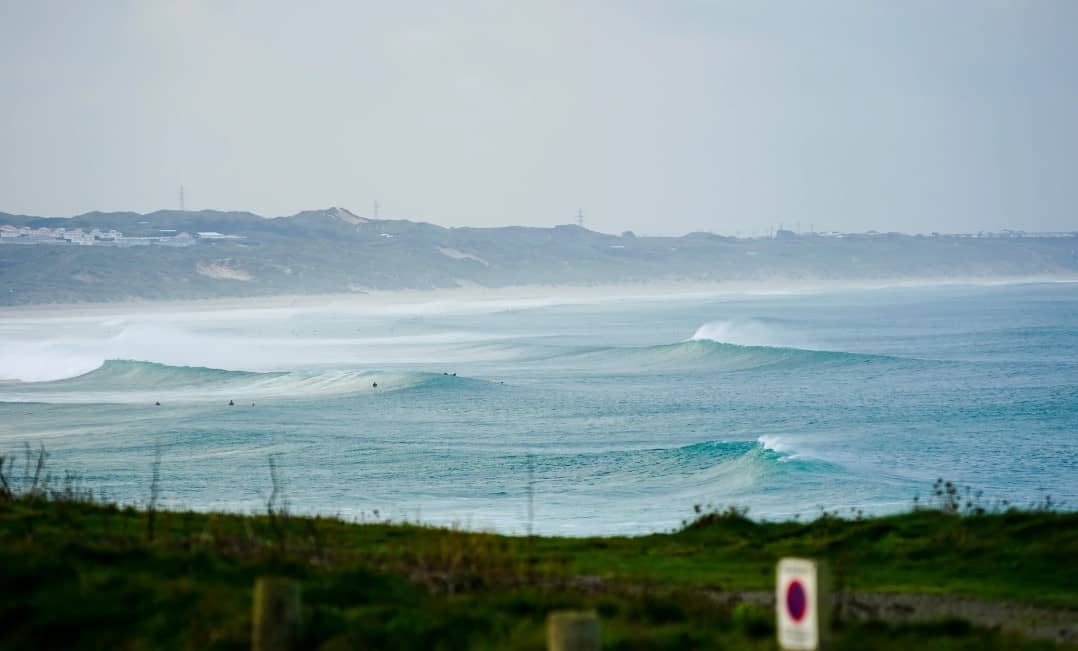 When you think of the United Kingdom, epic surf isn't usually the first thing that springs to mind. Maybe rolling green expanses, or ancient stately homes, but not above average waves. Well there you'd be wrong, because all across the UK there are nugs that rival some of the best in the world, at least we like to think so. 
Luckily for us down here in Cornwall, we hold a large percentage of the best beaches in the UK, given our exposure to a number of breaks on the north and south coast, allowing us to find the waves on almost any wind and swell. In our previous post you can find out what we deem to be the best beach in Cornwall, so let's explore north of the border quickly. 
Saunton Sands, Devon 
Located in North Devon, this three-mile stretch of golden sand is home to a break that's perfect for every surfer. Beach goers spread themselves thin across this expanse of beach, making crowds less of an issue, which is the same in the line up, giving beginner surfers a safe space to learn whilst the more advanced riders head out back. 
Woolacombe, Devon
Nestled in a rocky bay, this break, along with the whole of North Devon, has just been the first place in the UK to be selected as a World Surfing Reserve. If that isn't a good sign to surf here then I don't know what is. There are also a handful of breaks that hug Woolacombe for those that enjoy the search and don't mind taking the goat path for some more secluded surf spots. 
Boscombe, Dorset
On the other side of the island we thought we'd add in something interesting. In 2009 an artificial reef opened just off the pier, with promise to create a longer right-hand wave and a shorter left-hand wave. Unfortunately, due to swift deterioration it was closed in 2011 due to safety concerns and lack of decent waves. There are still waves to be had along the beach, so fear not, and it's always fun surfing next to a pier right? The artificial reef was reopened in 2017 but not for surfing. Nowadays you can go out and visit it via boat or on a paddleboard! 
Longsands, Tynemouth
Much like the greater UK, Newcastle isn't what comes to mind when you are trying to find a surf break. But Longsands is super fun, great for all levels and hosts the Tynemouth Open Surf Contest which runs every year! Beginner surfers can learn with a number of great surf schools, but be prepared to dig out that winter suit, as temperatures here are somewhat chilly and isn't for the faint of heart. 
Saltburn, North Yorkshire
Either side of the picturesque Victorian pier you can find some very popular beach breaks. It can get a little crowded, given the lack of easy choice. But if you're an advanced or intermediate surfer then around the headlands you can find some seriously challenging reef breaks. Given that Saltburn is located on our North-Eastern shores much like Longsands, it's not for the fair weather surfer. Along the front there are a number of surf shops that will happily kit you out with the gloves and boots needed to stay moderately toasty. 
The Wave, Bristol 
Now when we said that the UK isn't necessarily a hot spot for the best surf, we weren't kidding. As much as we love our local breaks up and down the country, sometimes it's nice to find consistent waves and practice those cutbacks. Which brings us onto The Wave. The first inland-surfing spot of its kind, you're guaranteed to get those crystal clear nugs you've been hunting for. Accessible for all ages and abilities it's the perfect spot for the whole family! It's a great spot for a trip with friends, to learn some new skills, or to even start out before heading into the ocean. Well worth checking out. 
Sennen, Cornwall
Now we couldn't finish up before mentioning one of our own. So after scouring the country for the best surf, make your way to the farthest reaches of Cornwall, hitting all the tasty breaks along the way until you can't go any further. That's right, it's Sennen. Now we've given this spot a little mention before, but we thought it deserved a bit more of a shout out. It's wild, it's rugged, it's at the end of our little island and it's almost always got some waves. You can learn to surf here with Sennen Surfing Centre thanks to the forgiving white water on a sandy beach. Or, test your skills out the back when the swell comes in and see what you're made of. 
Before you set out of your next surf trip to explore these breaks make sure you're kitted out. Check out the Pack Mule Backpack for all your essentials, and maybe even this Captain Fin Co - Captain Beanie to keep your head warm after those icy surfs up north. Good luck, and happy searching.