Best Surf Schools in Cornwall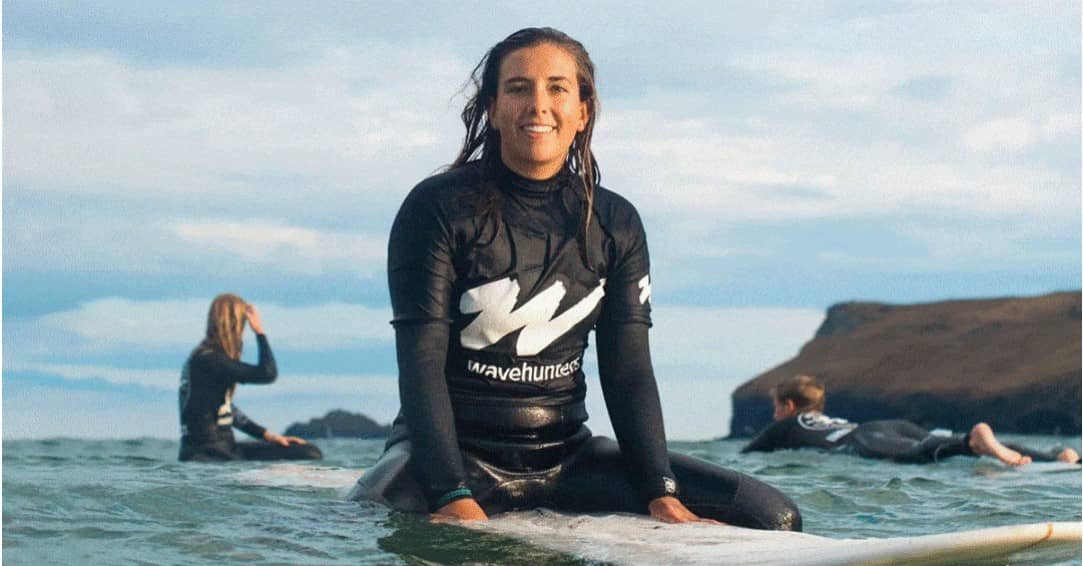 All along the southwest, we are granted access to an unbelievable amount of incredible beaches, most of which are home to a surfable break. Whatever the wind, swell, tide, or weather, nine times out of ten we can find a wave worth riding. How mad is that? Cornwall is a mecca for surfing, but how do you get started? It's not like other sports, some don't even see it as a sport at all, they see it as a lifestyle.
We would be inclined to agree with both, it is absolutely a way of life, it seeps into your bones and becomes all you can think about, the mindfulness, peace, and exhilaration it can bring are addictive.
But it is also a sport, given that it requires dedication, physical exertion, and skill. Luckily for the newbies out there, Cornwall is also home to some of the best surf schools in the UK, so whichever coast you find yourself on there's a high chance you'll find a crew of stoked surfing instructions eager to get you on a board. Let's take a look at a few. 
Wavehunters
Wavehunters was born in 2002, with a minibus service transporting surfers around North Cornwall in search of waves. And so began what would become our life's work: sharing the place we know and love with fellow adventurous souls. Fast forward twenty years they have locations at Watergate Bay & Polzeath. They offer more than just surfing lessons including boat trips, yoga, water taxi, beach fitness and so much more! 
Visit: https://www.wavehunters.co.uk/ 
Global Boarders
Now, these guys have you covered if you visit Praa Sands on the south coast or Gwithian on the north coast. As a family-run business, they are dedicated to providing the best surf and coasteering classes, ensuring their 12+ hand-picked coaches are of the highest level. They are all fully qualified lifeguards, which is what you want, and currently taking the helm as head coach is Chris Brown, with over 15 years of experience you couldn't be in better hands for your first days out on the water! 
Visit: https://globalboarders.com/
St Ives Surf School
Along the coast from Gwitihan, towards the outer west, you'll come to the bay of Porthmeor. Which is where St Ives Surf School is based. With a diverse team of salt-water specialists, they are eager to share their passion for the ocean, either through surfing, paddleboarding, kayaking or coasteering, they do it all! Highly regarded as one of the best places to learn to surf, given the gentle beach breaks that roll through here on a daily basis, and having two headlands to somewhat shelter the wave from the wind, it's safe, easy, and super fun learning here. They are proud to work closely with Surfers Against Sewage, The Wave Bristol, and Surfing England, with the end goal to inspire and educate others on the importance of our oceans, and to get folks out there enjoying it! 
Visit: https://www.stivessurfschool.co.uk/
Sennen Surfing Centre
Located in the picturesque village of Sennen, this surf school is filled to the brim with professional surfers, with the likes of O'Neill riders George Carpenter and Jake Sage amongst the talented team of coaches. Open seven days a week from April to October these guys are the go-to surf school at this end of Cornwall. 
Visit: https://sennensurfingcentre.co.uk/
Dan Joel Surf School
If we venture back along the south coast, past Praa Sands, we will eventually end up at Poldhu. A rugged outcrop that is home to the Dan Joel Surf School. Located at this beauty of a beach near Mullion it's one of the last stops on the map to catch waves before you hit the Lizard. Offering surf lessons for adults and children, getting in the water with these guys is a great way to entertain the kids and the parents on those scorcher summer days! You can also book as a group for a party or corporate event. Which would make those work parties way more fun. Dan has a super-skilled team of coaches that work with him, and Dan himself has over 25 years of experience being a professional surfer and a big wave surfer too! You could not be in better hands. 
Visit: https://www.danjoelsurf.com/
Eskinzo
Heading further north, we come to Porthtowan. A very popular break thanks to moderately consistent waves on all tides, and its barreling left-handers when low tide hits. Not the best for beginners as it can get a little rocky when the tide comes in, but if you do want to learn here then the team at Eskinzo are who you want with you. From ski pros to world champions, from yoga instructors to surf photographers, these guys are talented in a variety of industries but one they have in common is surf coaching. So next time you're in the area, give them a shout and grab a board! 
Visit: https://www.eskinzo.com/
Fistral Beach
Even the name tells you all you need to know. Located on the home turf of British surfing you just know that learning to surf here will have you crowned Pipeline pro in no time. There is so much on offer here, for all ages and abilities, as well as group sizes, you really can't go wrong. It's super easy to find, so head down there and get suited and booted ready for a fun lesson. Thanks to their talented team you can either rock up as a beginner or as an advanced surfer and still get great advice, tips, and one-to-one sessions to improve your skills on the board. To top it off they even offer surf trips, full weekenders spent analysing your technique and helping you level up. 
Visit: https://www.fistralbeachsurfschool.co.uk/
The Wave Project
We couldn't mention surf schools without giving a shoutout to one that has helped thousands of people across Cornwall. The Wave Project is the world's first 'surf therapy' course funded by a government health service. Their mission? To harness the power of the ocean to improve the mental health and well-being of children and young people, with the amazing support of their 6,000-strong team of volunteers. With a myriad of projects under their belt, their surf therapy programmes have been at the heart of The Wave Project from the start. Offering young people, aged 8-21 the chance to take part in a specialised session once a week for six weeks! Supporting children and young people who have a range of physical and mental health issues, social deprivation, or social isolation, and getting them out into the water for a surf lesson allows them to build resilience and self-esteem, make friends, and most importantly have some fun! It's a brilliant initiative and one we hope will go from strength to strength.