Best Surf Spots In Portugal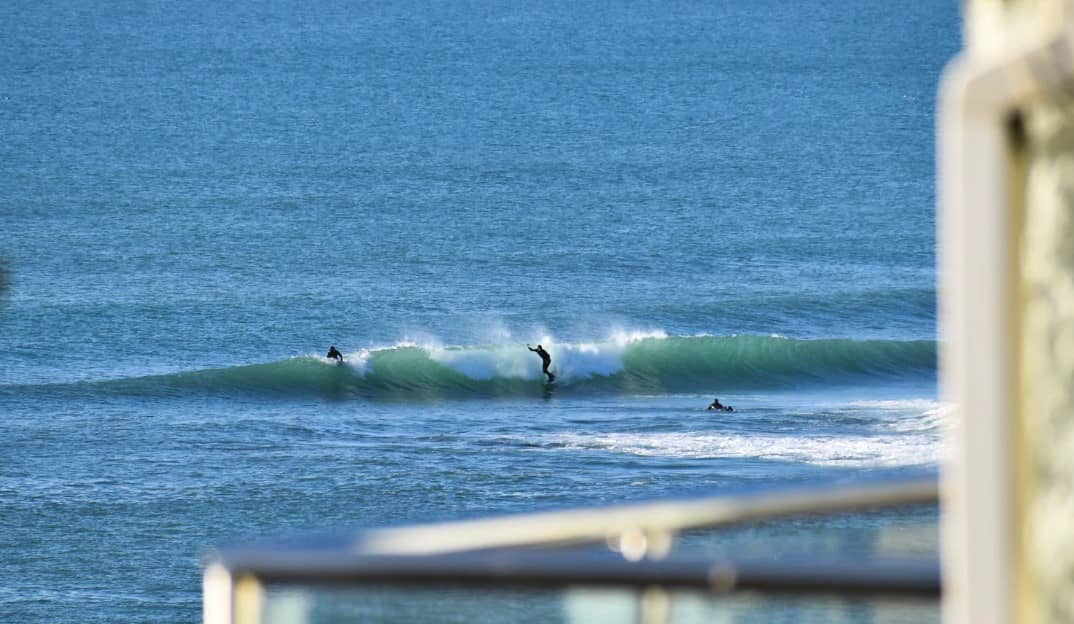 If you're on the hunt for warmer climates and consistent waves then Portugal is the place to go. Renowned on the big-wave surf scene for Nazaré it's a mecca for the likes of Lucas Chianca, Justine Dupont, and Andrew Cotton to name just a few, all chasing the big waves that pull in at Praia de Norte. However, whilst Portugal is great for the advanced and intermediate surfers, in the summer months when the swell dies down there are some incredible spots up and down the coast for the more fairweather surfer. See below for a few of our top spots, regardless of which season you're after. 
Beginners
Between April and September is when you'll find the most forgiving waves on this side of the mainland, as well as those prime summer temperatures you want from a trip abroad. Starting in Peniche, you'll find the 3km stretch of Cantinho da Baia, a very popular spot for beginners thanks to the spacious line up, with a delightful left and right peak that starts slow, giving you plenty of time to find your feet. A little further south you'll come to Ericeira, specifically, Foz do Lizandro and Sao Juliao. Both are two great beginner breaks in this part of town, which actually boasts a substantial amount of beaches to explore. Foz do Lizandro is an exposed river break, the waves can change depending on the sandbanks but it's usually pretty consistent. The same goes for São Julião. Located 5km south of the town of Ericeira this stretch of beach will bring both left and right breaks. Known to work best on a mid-tide that changes with the banks it's consistent for newbies, and with the surf school right on the beach you can get lessons from the best in the area, as well as acquire local knowledge on rips, tides and rocks that frequent this beach. 
Dipping below the town of Carrapateira, to the point of Sagres you'll find Amado. Amado also boasts some of the warmest waters in Portugal, so if riding in boardies and bikinis is what you're looking for then you might just be able to get away with it here. There are also a handful of top surf camps and surf schools located here, offering lessons for all abilities with friendly instructors that will get you out on the waves every day! A word of warning, however, much like most of Portugal and the Algarve it is known for rock formations, especially those hidden under the surface. Whilst the sand banks protect it some, these shift regularly, and can change what you are used to from one day to the next. This, along with some high-tide rips, can cause you some trouble. So be smart, and ask the local surf school for advice before you jump in, and know your skill level! 
Intermediate/Advanced
For those who are looking to up their surf game and find the bigger waves, then here are a few must-visits. Sagres is back on our list for those looking for some extra size. Whilst it's a good learner beach, once that swell comes in off the Atlantic it ramps up, picking up some surfable waves here, at Tonel which is just south, and Beliche which can be found to the east. Heading back up north we will head back to Ericeira, which hosts a number of insane surf comps each year, including the World Surf League, EDP Vissla Pro and the Quiksilver Pro. No wonder it is named the best spot to surf in Portugal! With a bunch of world-class breaks on offer you'll always find a wave. If you are wanting to find the bigger sets then travelling here in winter instead of summer is your best bet, but be careful, as it can get crowded, adding to the risk factor that already comes with surfing big waves. 
You can't head to Portugal without exploring what's on offer in Peniche. Peniche is a peninsula off the coast, attached to the mainland by beaches and bridges. What's great about this little landmass is that you can always find an offshore wind. Perfect! It's not a big place, so having a drive around here and getting to know the locals is a great way to immerse yourself in the culture, whilst also getting the best knowledge on where to jump in for a surf depending on the conditions. The most well-known spot around here is of course Superturbos, whose name speaks for itself. Home to the Rip Curl Pro Portugal every year you are guaranteed to find those barrels. Challenging but manageable for those more advanced surfers. 
We couldn't talk about Portugal without mentioning Nazaré. Unless you're competing for the big wave title we think the smaller side of this wave will still put fear into some. If you visit in the summer months when the waves are tame in comparison, you may get the chance to tick Nazaré off your list. It's an incredible place to visit, not just for the waves but for the town itself. Surrounded by stunning coastline, surfing in Portugal will always be a trip to remember especially if you don our very own Longboarder Mag Tee, making the most of that European evening sunshine when you explore the town after a long day of surfing.