Winter Essentials For Surfing In The Winter
Posted by Christian Thomson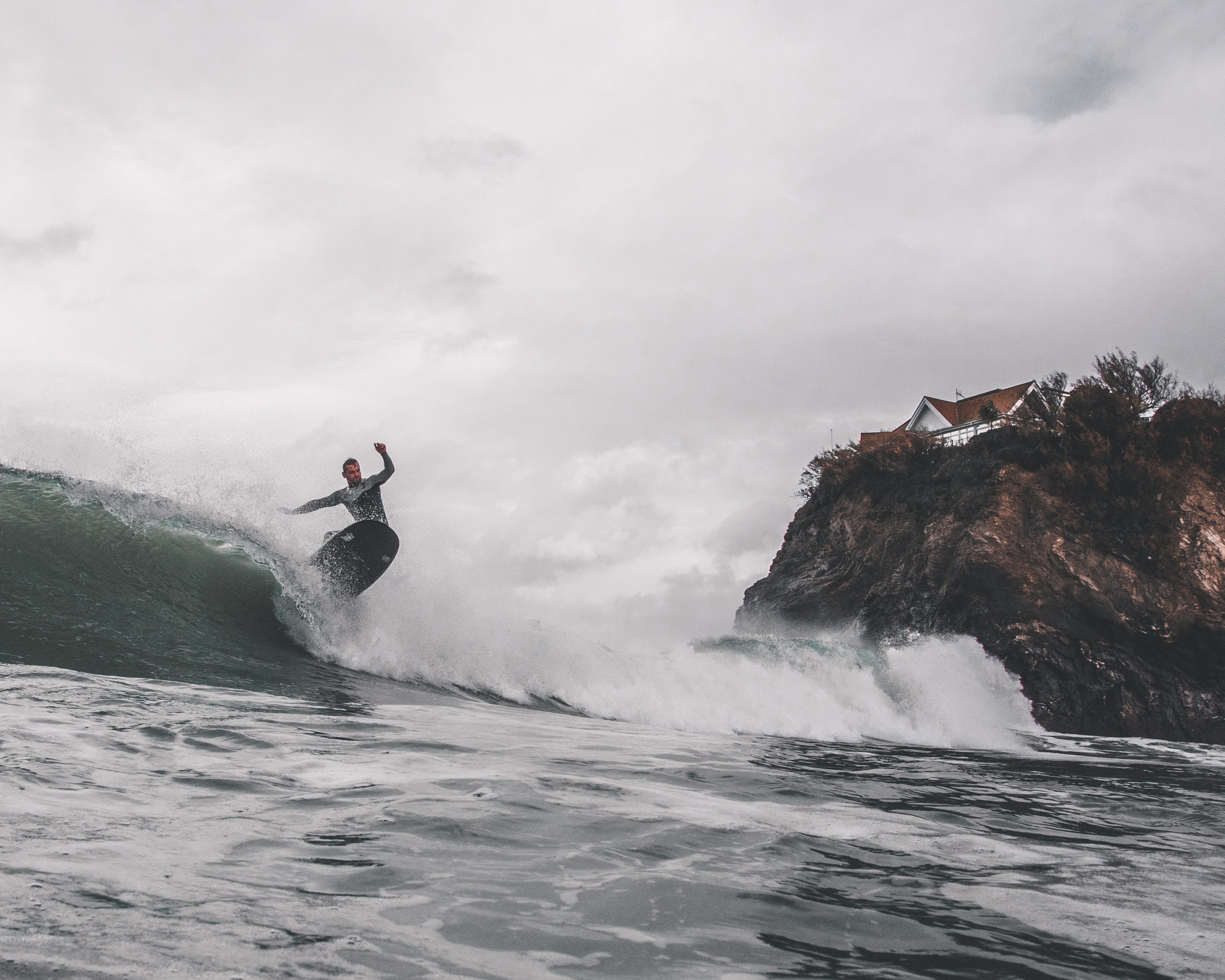 Surfing in the UK is not for the faint of heart. Yes, you get some tropical days where you only need an easy 3:2 wetsuit to keep you warm for hours on end, but they are outweighed by the near-arctic temperatures we get across our coastline for the majority of the year. When that icy chill arrives, there are a few necessities we recommend for any surfer to keep them moderately toasty. 
The first being a decent winter wetsuit, and if you check back at one of our previous blogs you'll get a pretty good idea of which suits are made for exactly this purpose. You could go for a chest zip, a fan favourite amongst most surfers as it reduces entry points for that cold water to seep through. However, if you are opting for a chunky 6-7mm suit, those pesky chest zips can be a nightmare to squeeze into on a cold day, let alone trying to get out of one when you can't feel your fingers! Trying on a back zip may help you decide which is more comfortable for you. If you are worried about the suit flooding with water you can always invest in a warm winter rash vest to add an extra layer of protection against the elements. Then you need to decide if you'd like a suit with a hood, or without one. Anyone who has ever swum or surfed in UK waters, let alone Cornish waters, will tell you that brain freeze ducking under those waves is not a fun experience, a hood can help with that. If you already have a pretty decent winter suit but want the addition of a hood then nowadays you can buy a detachable one. This allows you to tuck the extended neck neoprene underneath the shoulders of your suit, a quick shuffle to make sure it's all sitting comfortably and you'll be ready to go. Some people find a wetsuit hood a little too constrictive as it reduces your range of movement and should hug pretty tight around the neck, so a detectable one is ideal. If this doesn't bother you, then finding a suit with a hood allows you to enjoy the benefits of having less space for water to enter, sealing you up from head to toe. 
The second would be gloves and boots. As we know, when our bodies are exposed to cold temperatures, our blood leaves our extremities and makes its way to our core, to keep our vital organs warm and working as they should. This unfortunately leaves our fingers and toes to get pretty darn frozen. There are divided opinions when it comes to surfing with gloves and boots, and it really is a personal preference. But there is a lot to be said for dressing for the occasion, and when the water temperature is 5 degrees or below, having the additional 5mm isn't really a bad idea. There are a couple of options when it comes to gloves, in the form of full-finger gloves, mittens, or lobster mittens. Full-finger gloves are your standard glove design, allowing you a full range of movement of all your fingers. Mittens are self-explanatory, with only your thumb free, and the rest of your fingers in a bed of neoprene you don't have much dexterity, but your hand will work more like a paddle in the water thanks to the extra surface area. Lobster mittens are relatively new, and are designed much like the claw of a lobster, hence their name. They group your pinky, ring, and middle finger as one, leaving your first finger and your thumb to be separate. This gives you the best of both, a paddle-like section that still gives you the pincer of your thumb and first finger should you need to readjust your leesh, get access to your zip or adjust your hood. 
As for the boots, several surf brands have come out with some innovative solutions for keeping our toes warm in the winter months, and most follow the same concept as the gloves. The most popular are full boots, and lobster boots where the big toe is separate. Again, surfing in boots is a personal choice. Some argue that it reduces their ability to feel the board and feel the wave, impacting their overall performance. A good grip is also a concern, but with the right boot, this shouldn't be an issue. It's certainly not so much of an issue to stop folks from using them, testing the balance of function versus protection. Those who don't mind surfing in boots give themselves more time in the water to enjoy those winter waves. Most boots nowadays are slip-on, as the zip is just another route for water to creep in. The idea is to tuck the boot underneath your wetsuit to reduce water from flushing into your boots and then into your suit. Some boots also come with a strap that sits across the top bridge of your foot, this can be tightened or loosened depending on your preference, keep the boot firmly in place when you take a tumble, and opposes the impact of the water going in the opposite direction. These are best to try on in-store if you can, as you want to make sure they fit pretty snugly. Having a baggy boot will impact your performance massively. 
Another of our favorites for those cold water days are ear plugs. Surfers ear is unfortunately pretty common, a condition that results in eventual hearing loss when exposed excessively to cold water and cold winds. Hooking yourself up with some decent, molded earplugs can help with this, and keep that cold water from doing its damage. When wearing a hood they should stay put for the duration of your surf, but if you find the right ones you can wear them in any conditions. 
All of the above should keep you warm in the water, but don't forget some essentials for when you get out. Warm water for that post-surf cuppa, one of our Captain Fin changing robe, warm clothes including a pair of our winter Lightening Bolt socks, and a few jumping jacks to get that blood pumping. You're all set!